Sunshine Coast Electric Vehicle Association
Information   |   Education   |   Events
Our Mission Statement
The purpose of the Sunshine Coast Electric Vehicle Association is to promote the use of electric vehicles of all types on the Sunshine Coast of British Columbia. We will hold regular meetings and events to expand the knowledge of our members and the general public that will encourage greater adoption of electric vehicles in all sectors of society.
Coast  FIRST in adoption, leading the Province 
According to numbers obtained from ICBC, as of December 31st 2019, the sunshine coast is leading the province in EV adoption. With all our towns in the top 25, (out of 300 municipalities that have licensed EV's) we are the fastest growing region in the province per capita with over 437 EV's. And that is just cars. Electric bicycle's and scooters are extremely popular on the coast as well and with a perfect riding environment we are sure to be leading there too. 
Other news
SCEVA's EV Run,  Festival of Silent Lights – December 19th 2020. With Covid-19 in mind and not wanting folks to congregate, SCEVA members will dress their EV's with lights and Christmas fun and bring the caroling to you, running thru the neighbourhoods of Gibsons and Sechelt bringing comfort and joy past your window. Interested members can join us for all or part of the route. See the route HERE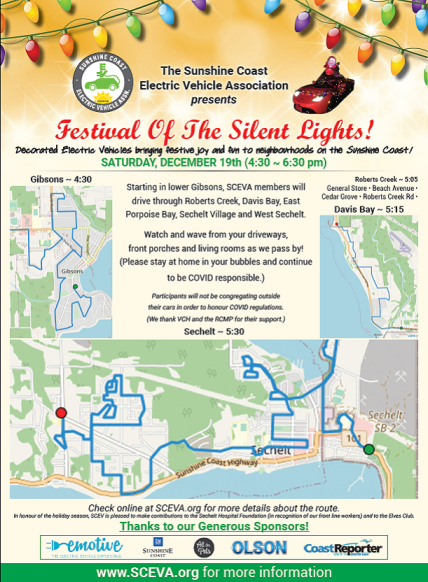 The BC Hydro EV Network is a great site to learn about EV's of all types. With Dave's adventures, campaigns, incentives and further education this is one of BC's best sources of info.
It's free (so far)
go to the
EV Society of Canada
and help re-establish
the Clean Fuel Standard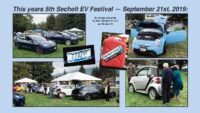 SC EV Festival
Car Rallies
Meet-ups
check the calendar