Sunshine Coast Electric Vehicle Association
Information   |   Education   |   Events
Our Mission Statement
The purpose of the Sunshine Coast Electric Vehicle Association is to promote the use of electric vehicles of all types on the Sunshine Coast of British Columbia. We will hold regular meetings and events to expand the knowledge of our members and the general public that will encourage greater adoption of electric vehicles in all sectors of society.
Coast  FIRST in adoption, leading the Province 
According to numbers obtained from ICBC, as of December 31st 2019, the sunshine coast is leading the province in EV adoption. With all our towns in the top 25, (out of 300 municipalities that have licensed EV's) we are the fastest growing region in the province per capita with over 437 EV's. And that is just cars. Electric bicycle's and scooters are extremely popular on the coast as well and with a perfect riding environment we are sure to be leading there too. 
Other news 
On behalf of the SCEVA executive team, I am excited to announce that Yarrow
Drtina has joined SCEVA as our Marketing and Event Coordinator effective
March 1, 2021.

Yarrow brings with her a diverse skill set in Marketing, Communications, and
Customer Service.  She will be supporting the volunteer executive team with
a particular focus on increasing engaging with members and expanding the
visibility of our association. 

Please join us in welcoming Yarrow to SCEVA!   Sincerely   John Henderson
Check out the EV Society Annual Report.  Interesting news and events from other EV Associations around the Country.
The Grand Opening of two fast chargers at Trail Bay Mall on February 28th was a great non-event. Members can still drop by and take a selfie with your car and the charger. Check out the videos of the ribbon cutting HERE
The BC Hydro EV Network is a great site to learn about EV's of all types. With Dave's adventures, campaigns, incentives and further education this is one of BC's best sources of info.
It's free (so far)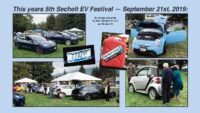 SC EV Festival
Car Rallies
Meet-ups
check the calendar